How To Quickly Play Beautiful Music
(Without Expensive Lessons, Prior Experience Or Hours of Practice.)
Get an original Irish Tin Whistle and experience playing beautiful music in just 7-14 days! PLUS join a supportive community of Tin Whistle players, ready to share your journey!
Watch students of all ages play after a short time in the course:
< You can swipe left or right or use the arrows >
After 15 years of playing, learning and teaching,
I realized that private lessons are not necessarily the most effective method.
A student can take in at most a few minutes of new material in every lesson and ends up paying a lot of money (around $60)
for a few minutes of learning…
The rest of the time – the teacher "supervises" the student while he\she is trying to practice…
The Irish tin whistle is so simple,
(unlike more complex instruments)
that there is no need for this supervision by the teacher.
So, I came up with an idea:
To make this mesmerizing instrument
even more accessible
to anyone who wants to learn!
I will provide the entire package:

The Irish tin whistle including free shipping. (1-4 days!)
The complete, inspirational, in-depth course.
A community to inspire, support and motivate you.
And all this costs less than two private lessons!
I would love for you to study with me,
I promise it won't be difficult.
How does it work and what you get...
You get an Irish tin whistle delivered to you, made in Ireland of course.
It's an instrument I selected, and I know it's good – so there is no need to try to figure out what to buy.


Protection case Included – For safe travels.


Compact and durable – You can take music anywhere and play by yourself or with others.


It's suitable for a variety of styles – not just Irish music…
but it always carries that Irish touch, which really gets you, right in the heart :).


The tin whistle opens up an entire family of instruments (flutes, saxophones, clarinet) – built on the same principles. (Professional information about the tin whistle is in the FAQ section)
Easy-to-follow video lessons – always available for watching, in your own time.


The lessons are organized within our private Facebook group.


You don't need any experience.

(If you have some experience, great!)




You will learn anything from the basics to musical ornaments, decorations, expression, tone and melodies.


Suitable for all ages, I have students from age 5 to 85.
(additional information for children – in the FAQ section)


The course is made up of 10 core lessons + 10 "booster lessons".
(average duration of 15 minutes per lesson.)


The 'booster lessons' – will provide answers to all the questions that can come up
during the core lessons. They are based on hundreds of replies and feedback.


Required practice time: A few minutes a day –

based on the

'micro-habit'

principle.




The course is specifically designed to be suitable for a busy lifestyle.


Learning is a kind of therapy, a few minutes a day of quality time with yourself;
after a short period, you suddenly realize that you can play music.


No need for musical note reading! –We will learn using fingering charts,
a simple and popular method

for learning to play ethnic wind-instruments

.
The charts look like this:
After you learn how to use the charts, there is no limit to the melodies you can play.


In addition to the lessons – you get professionaly recorded backing tracks (karaoke) that you can play along with.


You also get music charts, music playlists and other inspirational content to motivate and

encourage you to make progress.

Huge Bonus #1 :
Video & sound production crash course: In the group you will find a complete guide on
how to create your own music videos with tips on filming, sound recording

and

sound editing,
using only your smartphone.

Huge Bonus #2:
The library:
A cumulative library of music charts and songs for learning, uploaded by the students themselves,
and it keeps growing! That way you will never run out of music to learn and play.
This is how it looks from the inside
< You can swipe left or right or use the arrows >
Joining an active and engaged group of players, helping and supporting each other, providing a welcoming and safe place for questions and sharing. The group is one of the most significant aspects of this project – that helps people to be motivated and to continue!
When you see with your own eyes how people improve and learn to play beautifully in a short time –you will be motivated to believe that you can do it too.
Within a short time, you will no longer feel like the "newbie" in the group – and you'll realize how much progress you have made.
Skilled, experienced students are active in the group and are more than willing to provide help and support – they help even before I manage to do so.
Membership in the group has no time limit!
It's a real social encounter among wonderful people who share a fun, inspiring, common interest!
For me, personally, it feels like such a precious thing to have after the social distancing of these times!
See what the students have to say:
< You can swipe left or right or use the arrows >
How much does it cost and how do I join?
This is a limited-time offer
This includes:
☑ The Irish tin whistle including free worldwide shipping!
(
1-4 days in the US)
☑ The complete course, playbacks and community membership.
☑ No time limits or viewing limits.
Simple & Secured payment options:

Group option: adding friends or family members reduces the cost!
At the checkout page, you can add additional full packages for discounted price!
1 person – $97 \ 2 – $70 per person \ 3 and up – $60 per person.
This is a perfect gift you can give your family, kids and friends!
Frequently Asked Questions:
Can I get more details on the tin whistle I'll receive?
The tin whistle you will receive is made by Waltons, an Irish company that has been manufacturing tin whistles since 1922.
(This is the same instrument you will see in the student videos at the top of the page)
A great instrument, well-tuned and balanced with a comfortable finger spread and a wide diameter to prevent "over air blow" (a common beginner's mistake.)
It's made of brass metal with a polymer mouthpiece, and the name comes from – Tin whistle.
The tin whistle is a diatonic instrument in the scales D and G (E minor and B minor)
which are very popular in Irish music.


This is an excellent instrument for students.

The instrument was selected after I tested 5 different tin whistles in this price category,
and I found it to be the best tuned and the one with the most pleasant sound.


It received an average rating of 4.5 out of 5 stars based on hundreds of reviews
and I see my students making excellent use of it every day.


It's always possible to upgrade to more professional tin whistle later…


The most important thing is to start and focus on your skills.
Is it suitable for children?
The instrument and the content are suitable for kids ages 5 and up.


There are some 4 year old musical geniuses – who are we to prevent a child from learning? 🙂
Hundreds of parents have already signed up their children (and grandparents with their grandchildren.)


The experience of learning, doing something new, playing music and the bonding with a parent – works magic!


If the child doesn't have a Facebook account – you just open the lesson from your own Facebook account and your child can watch it.


Here is a lovely example of Yuval Playing the song "Spancil hill" – she is only 10 years old! 🙂



No-one is ever too old.

The group has plenty of students aged 70 to 85,
who enjoy learning, playing, and spending time on something new.


There are many studies that demonstrate the positive effect of playing music on memory improvement,
coordination, and brain functions at advanced ages.
What are the payment options?
You can pay using all of the trusted credit \ debit cards in a PCI & SSL secured payments powered by Stripe.
(Stripe is a payment gateaway trusted by millions of companies worldwid.)
If you're concerned about providing your credit\ debit card details – you can pay using PayPal or G-pay (google payments)

Shipping options and times?
Available shipping methods & times:
United states:
1-4 business days – 'USPS first class' – free.
Worldwide:
Asendia global (Estimated 7-14 business days) – Free!
After I receive the Tin whistle - how do I get the course?
Inside the box, every tin whistle comes with access instructions and a unique access code (on a printed sheet);

That way, when you get the tin whistle, you also get access to the course.
The course itself is in a dedicated Library inside our private Facebook group where the lessons are organized in a viewing order which you can watch on-demand.
The code & instructions included in the box, will lead you to the verification process for joining the private group.
How do I register together with friends / family?
Click the registration button, and select the number of units you want.
Each unit = a tin whistle and participation in the course & group.
The price options:
One person = $97
Two people (+43$) = $70 per participant.
Three people and up = $60 per participant

(This is a special price for the holidays!)
All the tin whistles will be delivered to the same address;
there is no option to pay extra for delivery to additional addresses.
A single individual makes the payment – sharing the cost, and the instruments are the purchasers' responsibility.
* A personal note from me:
I know that finding partners brings down the price – however, don't let your friends and family stop you from playing just because they're hesitating!
In other words…
it would be a shame to give up on playing because of the modest price difference…❤
Finding partners for purchasing (click here)
*Please do not post comments looking for partners on my Facebook posts – that is not the intent of this special offer, and such comments will be deleted. 🙂
I'm a slow learner, is this time limited?
Not at all.

There is no time limit, and no hurry… making progress slowly is excellent.

Most important is to enjoy the learning and the process.
How can I play without reading music notes?
The purpose of notes is to let us read and play musical parts we don't know by ear. (Like players in an orchestra)


There is no need for it here – you just need to listen to the melody two or three times,
until you can hum it and hear it in your head;


Then you use the fingering chart that shows us which notes to play and in what order – and there, we are playing!



It might seem a little confusing right now,
but I give you my word that it's simple and intuitive and you will get the hang of it in a very short time!
What if I have questions? Can I contact you?
On technical issues, customer service, financial, or logistical issues – I'm always available through the Facebook page messenger and Support Email.
All contact details will be sent to you in the invoice & order confirmation page.
Regarding musical issues – you can ask in the group.
I try to reply but I can't get to everyone, that's why I added extra booster lessons based on the thousands of questions and feedback I already gave, so the chance of not finding an answer – is slim.
In most cases – the veteran players answer before I do and know how to help.
Let me set your mind at ease with a reminder
– it's a very friendly instrument and the lessons are very clear.
A question that comes up will be probably get an answer in the following lessons anyway.
It's a busy time for me and I'm concerned I won't be able to commit myself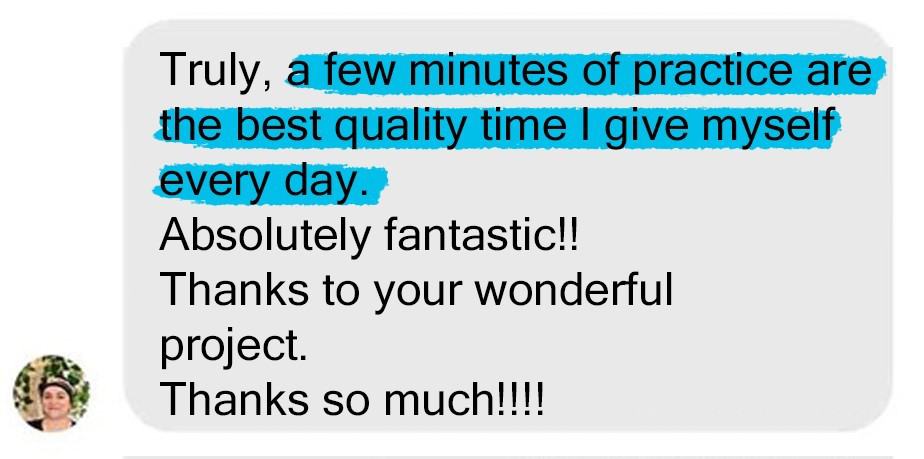 Do you have time for coffee? ☕

Add a short playing session to your coffee break.


A few minutes a day are all you need.
Short and frequent practice sessions over a period of time are the key to success.


Within a short time, suddenly you realize that you can play.


I encourage you to ask yourself, how much time, on average, do you spend on social media apps…?


Isn't it worthwhile spending a few minutes of that time on something that as magical as music?


All in your own time and at your own pace.


It could sound like a commitment or a burden, but as far as I can see:

the students find the practice sessions to be a daily escape and relief from their busy schedules.

What if I have no musical skill or an "ear for music"?
Musical hearing is a term that intimidates lots of people and causes a lot of confusion.


A musical ear is a muscle you can develop💪– by practicing music.


Most people decide that they don't have a "musical ear" as a result of bad childhood experiences learning music.


The ability is based on an intuitive understanding of the intervals between the notes.
Just as you learned over time to estimate the distance between objects just by looking at them,
the same thing happens with your ear!


Please do not fear the issue of musical hearing!
It's just an anxiety that causes people to deny themselves the chance to learn something new, for no good reason.


Keep in mind that even the greatest musicians – were also beginners once.
I already play - do we only learn the basics?

The basics of the tin whistle are covered for the most part in the first three lessons.

Beyond that, learning is focused on more advanced subjects like ornaments, decorations and expression, improvising and learning tunes.
So even experienced players will greatly benefit from the course and enjoy the community.

Musical experience will help your progress a lot and of course, is a huge advantage.


Most experienced players become real community leaders and have a significant presence in the group, which is a real blessing for all of us.
I hope to see you as one of our community leaders.
How long will it take to know how to play?
Most students in the course play their first melody as early as the first week. 😊


However, as a musician of 14 years – I can tell you that this is an exciting never-ending journey.


The focus should be on enjoying the process and not on the goal,
because no matter how long we play there will be always more to learn and there is no end goal.


We play to play.
Can I watch a part of a lesson to see what it's like?
You can get a sense of my teaching style in the short compilation above…


However…☝️🤓


In time I realized that showing part of a lesson when you have no instrument and no context of previously studied material –


will just end up being confusing and won't really give you a true sense of the learning style.
So at the moment I can invite you to read what other students have to say about the course (Recommendations).
Watch the students play and realize that the method works.


I'd like to ask you to put your trust in me as your future teacher and to rely
on my experience and confidence in the teaching method.


Everything will be made accessible in a simple, straightforward manner
through short, clear, humor-filled lessons, professionally recorded with relevant additional material.
I hope this sounds fair…


♡
When I finish the course – what comes next?
I plan to launch an advanced course within the next months…

Until then – you can enjoy the library of music charts to play and learn.

The library keeps growing all the time with new additions by the students – that way you will never run out of things to play.

Of course – you can stay an active member of the community for as long as you want!
Can I only buy the tin whistle and study without the course?
I already have a tin whistle - can I just buy the course?
If you have a tin whistle in the key of D – You can register for the course & community
without the tin whistle that I provide,
At a discount of course.
Click here for a course & membership-only registration!
Can I get the lessons by email or WhatApp?
The lessons are available only in the Facebook group.


You can access them on your computer or from the Facebook app on your smartphone.

If you don't have Facebook – you can open an anonymous profile just for learning.
I don't want to participate in the group...
It's not really required…
You can do the lessons without participating and being involved in the group,
although I heartily recommend taking advantage of the benefits of being involved.
I would like to buy this as a gift, and to give it when I choose - can I do that?
SURE! There is no time limit, both for taking the course
and for accessing the course materials.


When you want to start – just open the tin whistle box, and use the printed instruction sheet to access the course.


If it's a gift, you just need to give the box whenever you want.
It's too expensive for me right now...
The change music makes in your life is simply priceless.


I appreciate the importance of $97!
However, in the world of music & instruments, this is relatively small sum.


For comparison, $97 is the cost of a small part of my saxophone…
It's no more than a meal in a restaurant that you finish within an hour…
Or a piece of clothing that you buy to wear twice… and there are many other examples.


You might just become a musician – how much is that worth?


I need to think about it…
Unfortunately, I have heard these words from hundreds of people who could have been fine musicians today…
Many people had a bad childhood experience with music and find it intimidating as adults.
Many of them believe that music is reserved "only for talented people" …
if you feel like that, don't blame yourself – Its only a result of bad, old-fashioned teaching methods.
If you're not a musician but have a real unfulfilled desire to play music,
please ask yourself:
is it possible that you gotten used to convincing yourself that "now is not the perfect time"?
I specifically designed (and priced) the project to make it suitable for the "non-perfect" time! ♥
The project is design to support you and give you everything you need
so there is no room left for postponing your musical journey any longer. 🙂
If you still want to think, I suggest focusing your thoughts on the following questions:
Why do I want to play music?
Why haven't I started before?
What can music add to my life?
How will I feel in a month or two when I'm already enjoying playing music?
Will there ever be a perfect time for it?
Won't I regret it in a year if I don't start today?
(I'll send you a nice playlist)
My name is Raviv Stein,
For the past 14 years I have been playing a variety of wind instruments, mainly the Irish tin whistle and the saxophone.
Over the years I learned with the best teachers in my country, and studied music at college. I had the privilege of performing publicly on many stages both in my country and abroad with amazing artists. I created this project when Covid-19 started and disrupted the usual work routine; it gave me a special opportunity to spread the magic of music – a magic that completely transformed my life.
I sincerely invite you, to give you and me together – an opportunity to bring this magic of music into your life:

A universal language without limits, that you can carry wherever you go and connect with people everywhere.
Yours,
Raviv